following, as Im doing the same thing, started based on I Like to Make stuff video as well.
If I should make a new thread, i can do that, but I figured if we're in the same boat, it might be relevant.
I have the:
Teensy 3.2,
prop shield,
power booster (per the v1 directions)
FETS
SD Card Adapter
Speaker
recharge port
2 momentary buttons (non LED, nothing fancy yet)
18650 3.7v battery and small holder that fits easily in hilt
and pair of 144 Neopixel strips, i plan to shorten to a 32" blade visible (total 34" i figure)
I'm confused between diagrams that show using Teensysaber shield or a super complicated one I saw with power boost and stuff
Trying to make sure I know what goes where. Looks like based off other threads, the GND from Neopixel strip and swithces should go to the Teensy GND, and Battery GND (via charge port ) goes to the propshield GND.
And I'll add 20k in resisitor on the 5v Line to the LED (forgot to add to image).
Does this edited vs of the set up look accurate?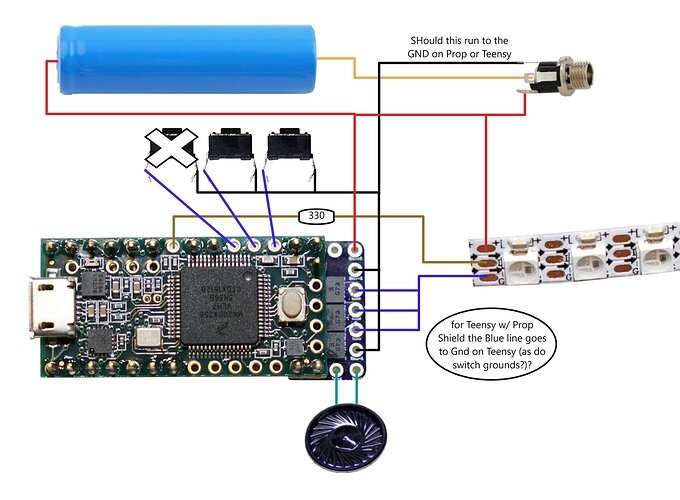 Sadly the sd card unit i got off amazon was bigger (limited lately to gift cards), and I can't find a pin idenitfy for the one you mention to try to match up, so I'm gonna have to use serial flash for now.