So I'm getting ready to solder up my first Proffie install, and I got to wondering: Can I install a pair of negative/positive leads from an NPXL ECO to an LED pad to control it like a blade?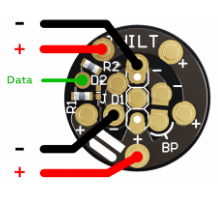 The description for the NPXL Eco:
These are a more affordable and user friendly NPXL PCB. The SMD resistors are pre-assembled onto each PCB. This way a single Data lead controls both blade and on-board connector leds in parallel. Therefore the blade ffects will be matched by the connectors on board LEDs.
Maybe I'm mistaken, and the two pairs of wires are for supplying the ample voltage to both the neopixel pins AND the LEDs in parallel, not separating the circuits on the PCB…idk. Any help on this would be appreciated.
Another question: Does an accent LED illuminated momentary switch also count as a blade in the OS?