For a very long time, I've been wanting to try to guess the clash location based on gyro/accelerometer data. I've collected and plotted clash data before, but this time I got serious and applied some machine learning to the problem.
First thing I did was to create a better clash recorder. It lights up a small section of the blade, waits for a clash, and then asks if I want to save it. The saved data contains the accelerometer and gyro data, along with the computed "down" vector, saved 1600 times per second. The saved data has 256 rows, 128 of which are before the clash, and 128 are after the clash. The saved data also contains the location that was highlighted.
Next, I recorded 150 clashes, each at a random location on the blade. Then I copied the saved data to my computer and fired up TensorFlow.
Unfortunately, TensorFlow doesn't seem to be able to find a correlation between the data and the location, the best it seems able to do looks something like this: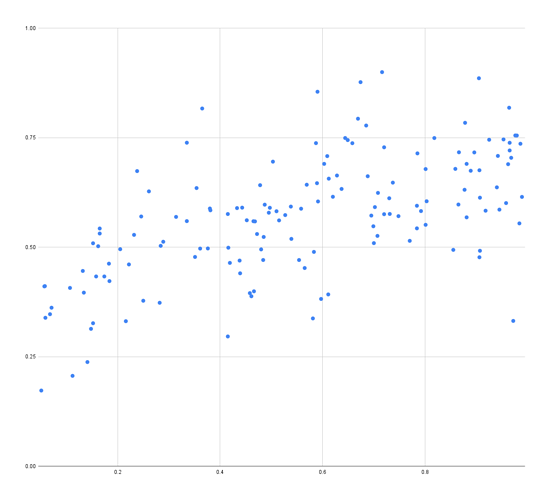 In this scatterplot, the X axis is the highlighted point on the blade, and the Y axis is the predicted point. In an ideal world, these points should form a 45-degree line. As you can see there is very little correlation between predicted data and real data.
Unless I'm using TensorFlow wrong in some way, I think that means that it's unlikely that we can find a correlation between the accelerometer/gyro/down data and the clash location.