Hi everyone.
I'm building one of the Goth3D's grand master chassis with proffie 2.2 and currently going through wiring planning and mockup.
I'm here for a sanity check, a couple of questions, and to see if anyone has any pointers or advice.
This chassis has removable crystals that have 6 pads that can go to 2 pixel LEDs and an ID resistor.
My plan is to treat the crystal as a 'removable blade'. Use Data 1 for Blade ID and wire an ID resistor between data1(16) and LED1(13) Pin inside the crystal part that gets removed.
And for Blade detect use Data4 and also wire it to LED1(13) pad that is used for ID and Pixel negative inside the crystal.
Questions:
Any reason that same LED1(13) Pin won't work for both blade ID through a resistor and Blade Detect directly ?
Should I add a pull up Resistor between 3.3v Pin and Data1 for ExternalPullupBladeID workaround?
Any concerns with that if I'm also driving a small LED from that 3.3v. Since it's just a pullup I'm assuming it should be OK.
I have a crude diagram I drew for myself to keep things organized that might help visualize: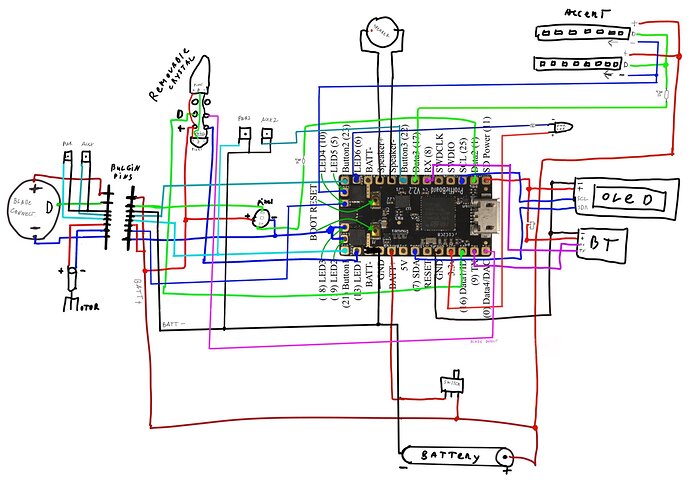 If anyone would like a cleaner version and has software in mind I can clean it up. I like sketching things on 'paper' for myself.
If anyone has any thoughts or suggestions I'd appreciate them.
Thanks for taking a look.