After seeing @mcarcher 's testing station / base I was inspired to sort out a proper one for myself.
seeing my last set up was more a bodge it and leg it affair

so I did some searching on the net and on Ebay.
all components were sourced from Ebay in the end as the prices were very good.
I think I must have spent about £12 in total but I will have to add it up properly a bit later.
but all components were easy to find and I will link the sellers after some sleep.
the main thing I wanted to achieve was to have a complete station hat had the all components on it without being too big, so I got on the laptop and cam up with this.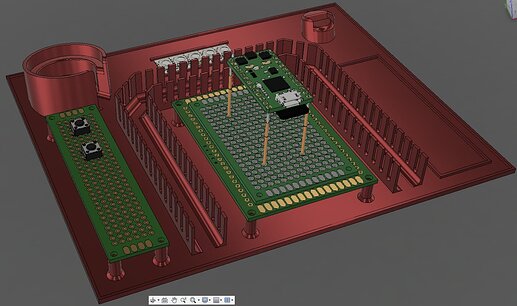 it has spaces for battery, switch board, main board (proffie), crystal chamber holder, strip of 5 pixels to simulate blade pixel board and holder for a short pixel strip to simulate the main blade.
I added a channel with slots in to keep the wiring neater and may add a lid to it later if required.
its currently printing and I'll post up what it looks like when its finished.
please feel free to put up what your set up looks like.