I just built a Scav Master and my heat up/cool down effect is occasionally exhibiting random flashes. (Watch the middle part of the chassis after I fire it up).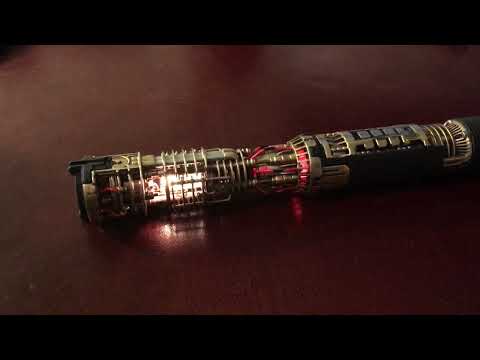 OS is 7.7 downloaded a couple of days ago.
Full config is here:
And the line of code controlling that pixel LED is here:
StylePtr<IgnitionDelay<3000,Layers<Rgb<180,20,0>,InOutTrL<TrConcat<TrFade<5000>,Rgb<2,0,0>,TrFade<4000>,Rgb<30,4,0>,TrFade<4000>,Rgb<80,10,0>,TrFade<3000>>,TrConcat<TrFade<1500>,Rgb<80,10,0>,TrFade<2000>,Rgb<40,4,0>,TrFade<2500>,Rgb<5,0,0>,TrFade<3000>>>>>>(),

It's not a biggie, and I know the dither at very low light levels means I'll never get the fade up to red from black to be completely smooth, but it's the white flashes that I don't think should be there. As such, I'm curious to know what people think. Are the white flashes an unavoidable dither artefact or something that can be fixed?
As always, thoughts welcome.