Hi everyone,
I have been scratching my head a bit and Brian and Matthew have been great as usual in another forum but I thought I would come here too.
I am using Dmitry's 10-pole indexed connector so I can have a removable chassis. I then have his NPXL connectors in a cross guard.
I want to be able to use 'blade detect' to setup up three different blade arrays;
#1 for just the chassis
#2 for when inserted to the hilt (10-pole connected)
#3 for when I insert the main blade only (planning on using the NPXL BP -ve to D1 short option).
I'm pretty sure this is possible and have looked at the three various setups in the Proffie manual and the 10-pole manual.
I think option A (page 21) can work somehow, but could use some guidance regarding
1/RT = 1/R1 + 1/R2 + 1/R3
I don't know what the tolerance is for resistance values detected by the board so would be grateful for any input. My concern is using resistors that will give enough of a difference in values to allow for detecting three different blade configs with a good degree of accuracy.
Hopefully the picture diagram does not get compressed beyond comprehension. Please feel free to comment on any efficiencies etc., as it is a fair bit of wiring to hide; I have added a few small questions to my diagram too for which I welcome input.
Also just another option regarding the blade detect if it helps, you will notice I still have Aux2 Button 3 available. If the blade detect is not possible in the way I wish to use it, I will just have to make a tough choice.
Thanks in advance for any and all suggestions, I have been putting off this build for quite a while.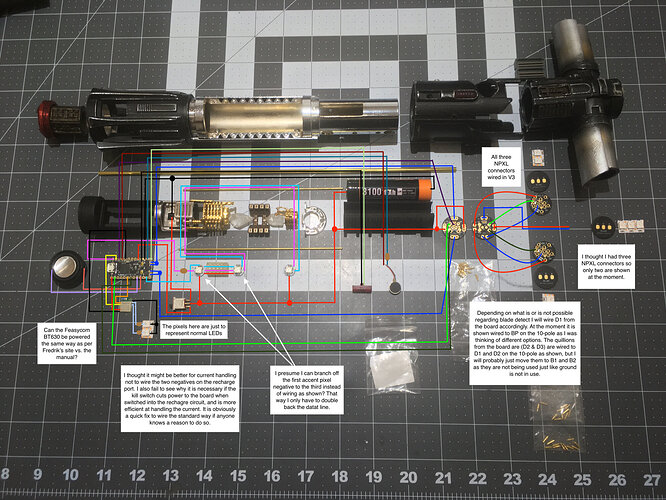 Drop box link in case of poor res:
https://www.dropbox.com/s/juk8xcn2listkn9/Kylo%20wiring%20diagram.jpg?dl=0