I am trying to build a Tron disc using a Proffieboard v3 and neopixel LED strips. I was following a documentation that did not work and I am stuck.
The parts I am using:
Proffieboard v3
SK6812 LED Strip trimmed to 97 LEDs (originally 144/meter)
SK6812 WS2812B MINI 3535 trimmed to 68 LEDs (also 144/meter)
UltraFire 14500 Battery 1800mAh Li-ion 3.7V (first attempt wired 5 in series, second attempt 4 total, 2 in parallel stacked in series on another set of 2 parallel)
the hubbie proffieconfig showed I should attach a 470ohm resistor to the data pin on one of the blades, and not the other. Another documentation told me to use a 330ohm, and the documentation I followed told me not to use any, they weren't needed. I did not use a resistor in any attempt and am afraid to try anything further without frying another board.
This is exact spot on the board that has fried each time, at least this is the part that lit up and fizzled: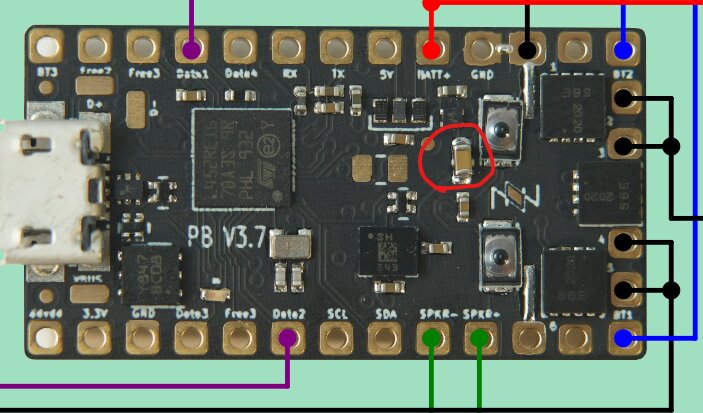 I don't understand calculating voltage and resistances at all, any help would be greatly appreciated.