I'm in the process of slowly making a liquid cooled high intensity saber, one that has 100W power or so in total, with the cooling liquid flowing in the interior of the blade and making direct contact with the LEDs. In the design process, I have toyed with the idea of making the coolant slightly milky to diffuse the light. The diffusive power of the liquid could be easily tweaked to blur out the bright spots just right without stealing too much light.
Then, today, it occured to me that a fluorescent coolant might be even better. I did a quick experiment with a few grains of the "king of flourescent dyes", rhodamine 6G, which I solved in a methanol/ethanol mix used as fuel for certain kinds of camping stoves and heaters. (Sadly, water will not do as a solvent, because it destroys the fluorescent property of the dye.)
This is what it looks like.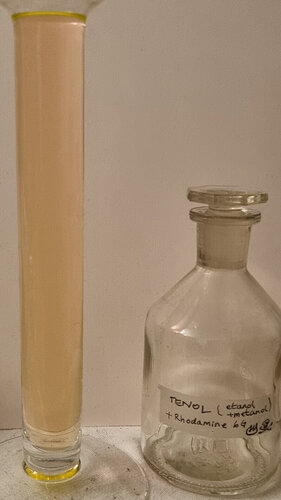 The glass tube is around 1" in diameter. In the second image I used a green laser pointer to excite the fluorescent dye. It absorbs the green light and re-emits it as a greenish yellow. With the extremely low concentration of dye I used here, the green ray can be traced as it scatters to yellow and drops exponentially in intensity across a distance of a few inches. More dye would make more light scatter close to the emitter and shorten the dropoff distance. There should be a sweet spot for concentration to diffuse the light just enough.
The dye can be optically "pumped" with other wavelengths than green, including light from blue or even UV LEDs. Using UV would make the LEDs as such more or less invisible – all the visible intensity would be seen emanating from the liquid, and the blade could be made quite close to a perfect diffuse emitter.
Now, this will take some more experimentation to figure out properly, but I am definitely going to pursue the idea further. The chemicals were delightfully cheap, and the quantum efficiency of rhodamine 6G is excellent. Pumping with UV would still lose some energy because the emitted photons have longer wavelength and lower energy than those that are absorbed, but green light is very efficiently converted to greenish yellow light.
Now I should get that alcohol back into the bottle before I spill it…