Hi all,
got kinda hooked on Youtube saber vids and decided to give it a shot.
I want to build one by myself, since that seems a lot more fun for me than buying a finished product.
I'm fairly new to electronics, so after reading the Proffie manuals and checking the configuration manager i came up with the following curcuit.
Would be great if someone could have a look to see if i made some newbie mistakes.
Specs:
SHTOKCUSTOMWORX NPXL V3 HILT SIDE PCB
PROFFIEBOARD V3.9
Hilt: KR Flagship.
Since it only has one 12mm button hole i went for this dual switch.
12MM 'PIXELSWITCH
Switch
Questions:
Do i need a resistor for the switch?
I can't find any V and mA specs, so i would not even know how the calculate the right resistor.
For the V4 Setup of the blade Connector i have to remove the R1 resistor.
Do i need to bridge the two pads the resistor was connecting previously?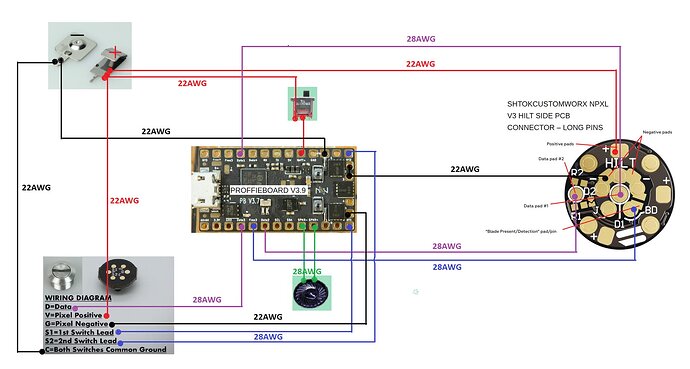 Thanks!
Shorty