I'm designing a low density (about 50 pixels per meter) but high intensity blade. A bunch of individual 3W LEDs will be mounted inside. I made one pixel for the first prototype, to work out the geometry before I start mounting my entire bag of 50 yellow 3W LEDs which I bought for almost nothing.
Even with only a single pixel, the thing is painfully bright: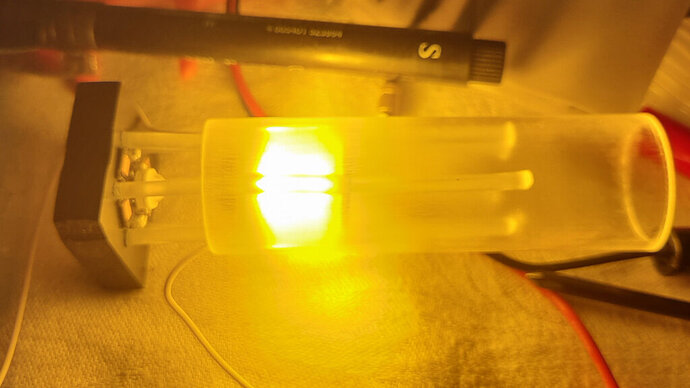 Reducing the current from 600 mA to 50 mA, using a clear (non-diffusing) tube, and countering the LED with the camera flash, we can see what's inside: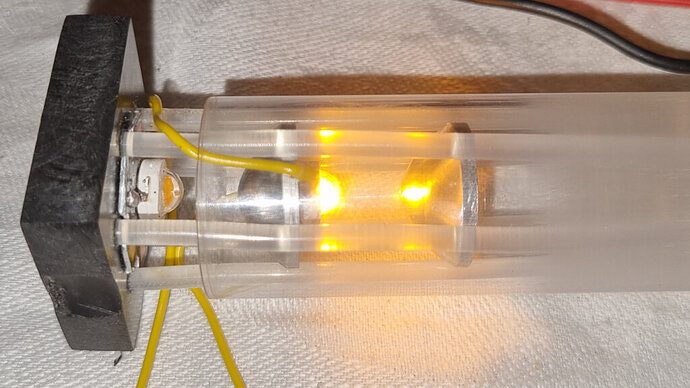 Each LED is mounted on a small aluminium block which has a double role: it provides a heatsink for the LED chip, and the opposite side is parabolic and polished shiny to create the illusion of a second LED, a virtual mirror image opposite the real one. This doubles the apparent pixel density and evens out the light field.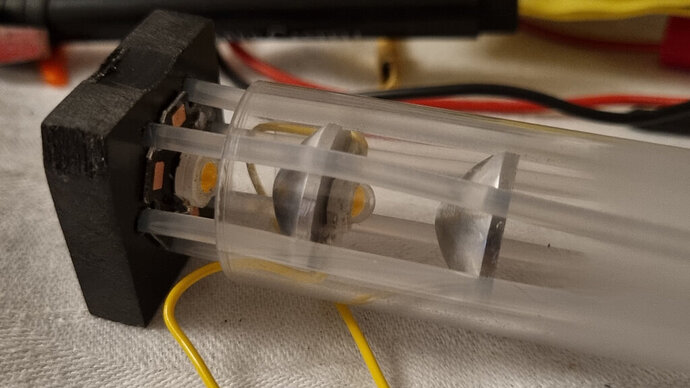 The aluminium blocks are placed in a "cage" of sorts, comprised of six strands of 3mm milky white nylon cord. I would have preferred clear polycarbonate, but I found no source of 2-3mm solid PC rods. Acrylic (PMMA) is easy to find in those dimensions, but it's brittle, and I want a blade that can take a beating.
The aluminium is not polished to a mirror finish in the images above, hence the considerably dimmer mirror image. A shiny surface will make this a little brighter still.
The space between the inner wall of the tube and the aluminium blocks is 2mm on all sides, which allows for a flow of air to (hopefully) keep the LEDs from overheating. It might be possible to run 50 LEDs at full power if I can make a cooling turbo fan that is strong enough, while also being small enough to fit inside a saber hilt. I'm aiming for the clunky form factor, the "Graflex" cylinder shape with 40mm diameter or so, but fitting the cooling fan and enough batteries to power this for at least 15 minutes on one charge will be a challenge.
I have a plan B, which is water cooling. Replace tree of the nylon supports with silicone tubing, pump water through them, and have it flow back around the LEDs. I'd rather not have to make all the electrical connections inside waterproof, though. That's why it's plan B. A small water pump is a lot cheaper and easier to find than a small turbo fan, though, and a lot less noisy as well.