Hi everyone!
So, we've all seen the polycarbonate tubes for standard simple "beam of light" sabers, but what about the non-standards? Things like the Darksaber for example, or certain weapons from other media that are similar to lightsabers, but have different blade shapes?
From the little bit of browsing around I've done, acrylic seems to be a popular choice for making flat blades, such as seen in the darksaber. From what I've heard though, acrylic has a reputation for being fragile and not suitable for much other than display pieces.
How about hybrid blades then?
You may be wondering what exactly I'm talking about when I say "hybrid blade". Well, I'm sure there are other examples out there too, but the first that come to my mind are a few of the weapons from Starbound, particularly the Solus Katana, and the Protector's Broadsword.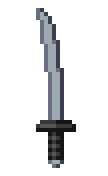 These weapons have metal blades, and can function as a traditional sword when not powered, but the blade can also be energized to create a lightsaber-like weapon.
I've seen a few hybrid-like blades around, but the ones I've found are all basically just regular acrylic blades that have metallic paint over large portions of them, which masks the light and only allows light to show through in specific spots that are unpainted, such as the blade edge or patterns adorning the blade. But as for hybrid blades that have a fully metallic appearance when off, but still have full glow when on, I've found nothing so far.
I think I just might have an idea for how to create the look of a hybrid blade though! As of now, this idea is untested, but I'll soon have the materials on hand to try it out.
So, my plan is to construct it similarly to how a LARP sword would be constructed. Start with a suitable core, such as a 1/2" thick fiberglass rod (I myself intend to use square rod), and run LED or Neopixel strips down the sides. Then sandwich the core between layers of a translucent foam, such as plastazote, with a channel cut out in the middle layer for the core to fit nice and neatly into. Glue the layers together with a clear adhesive, and then cut the slab into the desired blade shape.
Once the shape of the blade is formed, spray it with clear Plasti Dip, enough to fully coat it and keep the foam protected, and have the final product not be excessively squishy. Then top coat it with a layer or two of Plasti Dip Metallizer. Since the metallizer is in a translucent base, it should in theory allow light to travel through it mostly unrestricted. Heck, the metal flakes in it might even help with further diffusing the light, assuming it's not applied too thickly. If this works as I envision it, then the blade should end up with a bright metallic appearance when it's powered off, and still be able to let plenty of light through.