I will start with what might be my weirdest selfie so far. Well, one of the weirdest: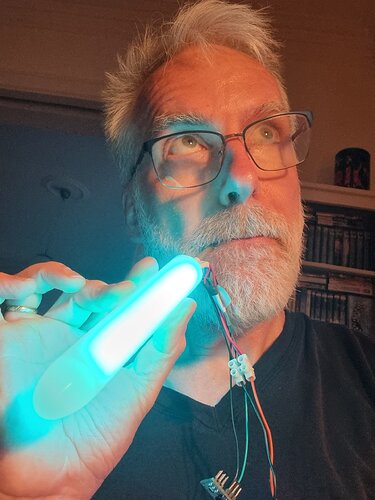 The glowy thing is a 10 cm pixel blade prototype using the pieces of two 1m Neopixel-style strips I bought to make a 90 cm blade. The reason I put it to my mouth is that it has channels for air cooling throughout the length of the blade. I am acting as the air circulation pump.
The test was succesful - by gently blowing or sucking (nnnngh must-not-make-immature-mature-joke) I could keep the Neopixel strips from overheating on full power - color 255,255,255 for all pixels. I learned the expensive way that this is a sure way to fry expensive LED strips sweating in foam, but the problem isn't the amount of heat that is generated - it's that a regular blade is basically a thermos flask that keeps that heat trapped with no way to escape. With this air cooling I can get MOAR LIGHT from Neopixel strips. With enough circulation, I think it would be possible to run three or even four LED strips on full power inside the blade. With water cooling instead of air it's definitely possible. Not sure if I can fit a water pump, a radiator and a fan inside a hilt and make it strong enough to cool something like 100W, but hey, engineering challenges are my kind of fun!
Now I need to test how strong the final electric pump/fan needs to be, but I think a good fit will be the innards of those rather useless but cheap USB vacuum cleaners for keyboards. An aquarium pump would fit nicely inside a saber hilt as well, and make much less noise, but it probably wouldn't create enough flow.