I'm trying to clean up the blaster.h prop. It started by trying to write a How-To page, then I ent through the documentation for the soundfonts. That took me to the prop itself where I wanted to understand what did each thing. I found out a lot of documented functionality is not implemented, the prop itself has lots of edits that tried to put things but never happened.
So, to actually clean up the prop file, I need actual hardware. From the defines and sound definition, I found out we have definitions for six buttons: Fire, Mode, Power, Reload, Range and Clip. Since the Clip button acts more like a sensor of clip present, it was better implemented as a latching button.
There's some examples on how to implement an OLED, and the sound definition includes an optional PLI to set the Range/Power level. I also wanted a hardware on/off, besides the PowerButton.
Thus, I set to design a test bench so I could have all the hardware to test the full functionality.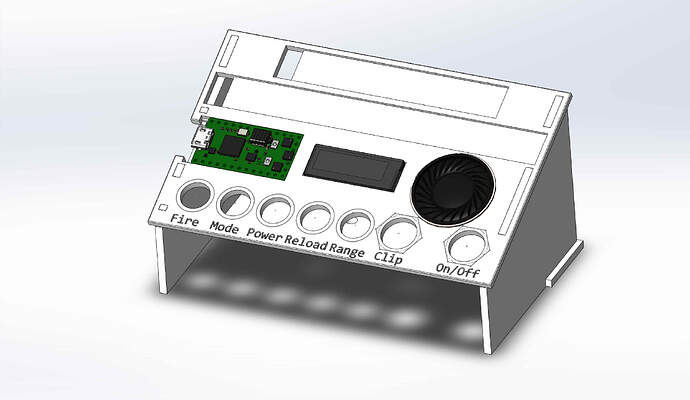 The wiring is this: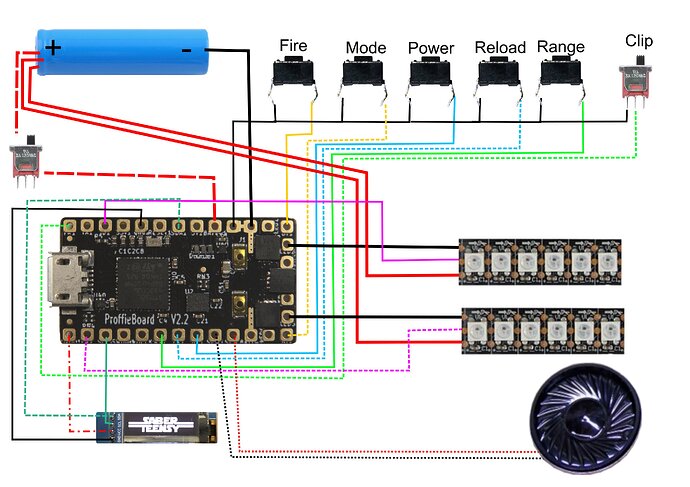 I would like @profezzorn to check about all this buttons, though.
Button FireButton(BUTTON_FIRE, powerButtonPin, "fire");
Button ModeButton(BUTTON_MODE_SELECT, auxPin, "modeselect");
Button PowerButton(BUTTON_POWER, aux2Pin, "power"); 
Button ReloadButton(BUTTON_RELOAD, blade3Pin, "reload");
Button RangeButton(BUTTON_RANGE, rxPin, "range");
Button ClipButton(BUTTON_CLIP_DETECT, blade4Pin, "clip"); //Actually clip sensor. It should be closed when the clip is in, and open when the clip is removed. So you can use either latching as single button or momentary if it is a physical clip inserted sensor.