So I bought an Aouye soldering station, but the software is kind of dumb. It always starts with the default temperature and air flow settings, which is really super annoying. In addition, I think it should be reducing the air flow when working on heating up to heat up faster. (It has a cooldown mode where the air runs faster to cool down, but it doesn't have a heat-up mode to heat up faster…)
Anyways, instead of just sending it back, I decided to open it up to see what I can do about it. Here's what I found: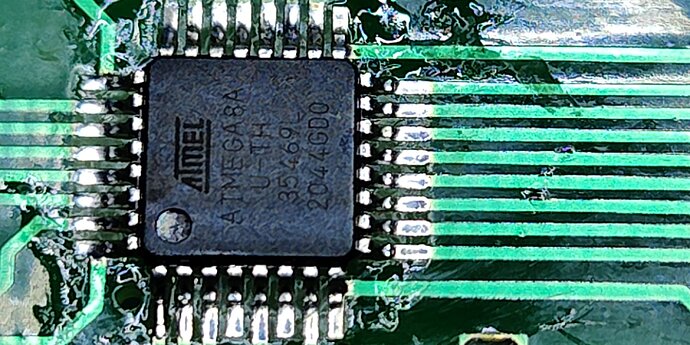 It's a little hard to read, but it's an Microchip Atmel Atmega8A chip. The PCB is already set up for programming, I just needed to add some header pins. Unfortunately, the lock bits have been configured to prevent people from download the program that is on the chip, which means I can't make a backup of the program that is on there.
So instead of making a backup, I'm just buying another Atmega8A chip. That way I can just replace the one that's on the PCB with a different one and leave this one programmed the way it is.
While I wait for my new chips, I'll start working on the program. It should be relatively simple. The board has 7 anode connections to the display (one per segment) and 8 cathode connections (one per digiit). There are 6 buttons, one of which is latching, and then there are 4 pins that actually hook up to the rest of the soldering station. I suspect that these are configured as:
Thermistor input (for reading the temperature)
heat control (probably through PWM)
air control (probably also PWM)
50/60hz input for timing.
I need to measure these and make sure they work the way I think they do, and also which is which.
If I could find a cheap air-flow sensor, I would see if I could replace the 50/60hz input with an air flow input, but I that seems hard to find.